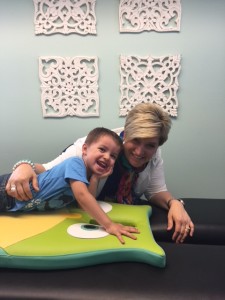 About Us
Dr. Sarah Smasal opened Smasal Family Chiropractic in 2005 to serve Wauwatosa and the greater Milwaukee area. We provide family chiropractic care for all ages, including infants and children.
Dr. Sarah Smasal has earned her Certificate of Proficiency in Pediatric and Family Chiropractic by successfully completing the 80-Hours of postdoctoral training sponsored by the Life University Department of Postgraduate Education and The Pediatric Experience.
This assures our community that the specialized care received here at Smasal Family Chiropractic is truly world class and encompasses the whole family!
Right now, sadly well over 50% of our children have at least one diagnosed chronic illness, and 1 in 6 struggle with mental health. These studies were done before 2020 and all of that added stress and anxiety our kids face (and their parents) have had added on here recently.
Our promise to your whole family is this — we got you!  Dr. Smasal continues to train in the science, steps, and clinical systems needed to get real results and truly 'Expect Miracles'  for your entire family!
Hope. Answers. Help. That's our 3-step promise to you, and we're now able to deliver it better than ever!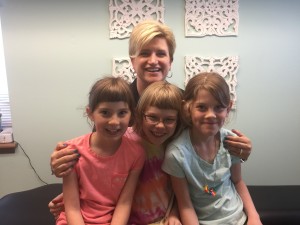 Your Partner in Health Care
We're here to help your body heal so you can live more comfortably and function better. If your progress plateaus and your recovery is not satisfactory, Dr. Smasal pledges to assist you in building your health care team to support you.
Dr. Smasal is dedicated to maintaining relationships with complementary health care professionals which she believes only benefits her patients.  This is why she shares space with a physical therapist and a licensed massage therapist.
A Full Lifestyle Approach
Dr. Smasal is dedicated to continuing her education to be able to continuously offer our patients the most up-to-date and individualized care.  She offers our patients a comprehensive health plan that includes chiropractic and healthy lifestyle information.
We want to let you know that there are alternatives to being on medications for life. We'll educate you on your options, and you can decide where to go from there.
The Gentlest Chiropractic Care
Many of our patients have tried traditional chiropractic offices and found that manual adjusting is too forceful. Dr. Smasal has become an expert in the Activator Methods® technique in the over 20 years of experience. This instrument-based adjusting method uses low force while still giving great results. Patients with delicate conditions such as arthritis or even newborn babies can receive Activator® adjustments that are gentle and noninvasive.
We're ready to coach you through the process of finding better health. Contact our office today to start!
---
About Smasal Family Chiropractic | (414) 774-6757